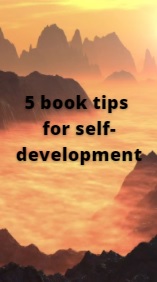 Self-development is very important for me, and therefore I find it very interesting to find good books about this topic. Below I briefly present 5 books that have helped me and inspired me.


The Sedona Method by Hale Dwoskin

I have read a few books over the years on the subject of letting go, but none could really help me until I came across this book. The Sedona Method gives you simple but effective exercises on how to let go properly respectively effectively. Unfortunately, ignoring or running away does not lead to the desired result when letting go but has exactly the opposite effect. A workbook that helps you to free yourself from emotional ballast.


Bringing intuition to work by Gina Giacomini

This book is suitable for all people who make more head decisions than heart decisions (of course, it is also valuable for all heart people). It offers practical solutions that heighten awareness and enhance intuition. These tools help manage stress, improve work performance, and rest in the center. A crash course for the workplace and everyday life with the motto "from the head to the heart."


The Happiness Trap: Stop Struggling, Start Living by Russ Harris

When we try to repress, ignore, or frantically replace painful thoughts or feelings with positive ones, we suffer more and more. This rethinking book helps to learn that stress and worry should not be fought but allowed and accepted. This change helps to find a deeply fulfilled life. Especially for people who suffer a lot from anxiety, this book is a great help.


FISH! by Stephen C. Lundin, Harry Paul, and John Christensen

The fact that a Seattle fish market was the inspiration for an instructional video that is being used successfully by thousands of entrepreneurs in the United States is really not very obvious. Nevertheless, because of its infectious atmosphere, it has the great potential to give departments (and especially their employees) back their enthusiasm and energy for work. This fictional story in this book tells the real-life secrets of Pike Place's success and is an unusual and highly readable motivational book.


Becoming Supernatural by Dr. Joe Dispenza.

Using the latest research from the fields of quantum physics, neuroscience, and epigenetics, Dr. Joe Dispenza covers several topics in this book: How do I free myself from the past? How does the pineal gland help us access the realm of the mystical? How can I enter the quantum field of infinite possibilities? A great book with examples and instructions on how ordinary people achieve the extraordinary.